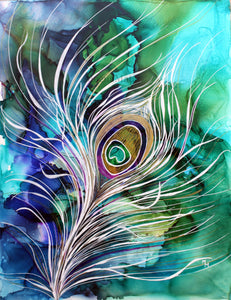 See Me
Regular price $130.00 Sale
Peacock is the national bird of India. "See Me," is not just a capture of this beautiful bird's magnificence and royal presence but it's a call to see within our history, our roots where we come from, our stories and legacies that have formed us over the years. It's a call from our history that says, "See me? Remember me?" 
PRINT OPTIONS:
Art reproductions make an affordable and wonderful alternative to original art.

Paper prints:
- Made locally in Austin, TX on archival acid-free paper with non toxic inks.
- One inch white border is added on all sides
- Comes with 4-ply premium mat and protective sleeve. 

Please allow upto two weeks for prints to ship as they are individually handmade upon order.