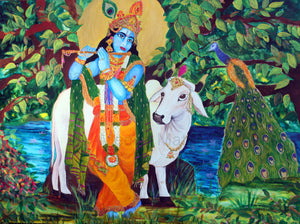 Krishna commissioned by private collector
This was a commissioned piece for a wonderful family, who commissioned me to create a piece for their beautiful home in Austin. 

Here's their review:
"Thank you Meena Matai, for the beautiful Krishna painting. My husband loved his birthday surprise. We just keep on going into the temple room to look at it. It will be something that both of us will treasure till the end of our life! Thank you for putting so much effort and pouring your heart into this painting. We are so grateful!" -Jyoti K
Original piece of art created with mixed media on canvas. The original is 30" x 40" and has found a lovely home in Austin, TX.