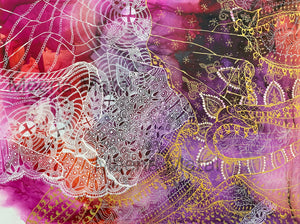 East West
Regular price $200.00 $550.00 Sale
When I was getting dressed for my wedding, I had a mix of fabrics from East and west - Indian silk saris with intricate gold embroidery and European delicate lace with beautiful designs. This piece I've been working on has been inspired by those fabrics - from Europe and India. Both equally beautiful, both painstakingly hand made by immensely talented artists. Swipe to see details.
This piece titled "East West" is created with inks and acrylics on board, it is 18x24". 
The board sides are painted gold and are signed.
This piece is part of City of Austin's People's gallery exhibit. It is available for sale but will be delivered to you at the end of June 2023.